Are you familiar with Lemlem? Model and actress, Liya Kebede started a clothing company to provide weavers from her native Ethiopia with jobs.
And I have been obsessed with the clothing since I saw it 5 years ago.
Here's Liya looking all fab in her

LemLem

dress.
I have wanted my own for YEARS but was always reluctant to pay $$$ for what is basically a beach cover up. Yes, I know Liya looks amazing above but in person they are a little (lot) see through. So what's a girl to do?
Search ebay for several years....continue to get outbid then...
Bam!! One golden day you are the winner!!! Yes!! Me!! I finally got one for myself, to have and to hold and to wear until death do us part.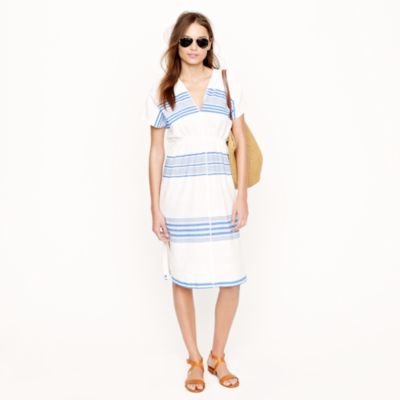 Here's an old picture from the J Crew website.
I continually got out bid until I discovered the secret to winning on ebay...decide on the

absolute highest price

you are willing to pay, then wait until the last 5 minutes and up your bid by $50. Worked like a charm.
I can't tell you what I paid because I have shoppers shame offset by pure joy. It's a good thing, it's a bad thing...And thankfully it fits!!!
Now when you see me wearing my fabulous new dress/cover up your first thought might be "Sissy, why are you wearing a dish towel?" Please keep these thoughts to yourself as I actually like the rustic cotton dish towel look.
That's all for now, have a great weekend!!!