I meant to post this yesterday, but Mondays are hard.
One of the best things about Tulum is that there is so much to do!! You could go and relax all day, do some yoga, have massages and chill or, if you want a more active vacation, there is so much more to choose from. We wanted a little of both.
1. Cenotes
Our very favorite part of the trip was snorkeling in one of the many cenotes -
natural swimming holes formed by the collapse of porous limestone bedrock, which has reveled a secret subterranean world of groundwater pools with crystal clear water

.
We went to Cenote Dos Ojos which was recommended by our hotel and it was fabulous!!! You met your guide in a little hut where you put on a short wet suit, mask, snorkel and fins and off you went to the underground world of Dos Ojos. No release forms, no safety speeches, just an excellent guide who made it easy and fun. We swam through small caves and channels and ended up in an underground bat cave. Incredibly cool. Even Locke (my seven year old) jumped right in and took off.
These pictures are from the Cenote Dos Ojos web page since I didn't have a camera with me.
2. Xel-Ha
Another fun and unusual outing was to Xel-Ha. Xel-Ha is

a commercial aquatic theme park and self-described ecotourism development located on the Caribbean coast.
I had to get that description from their website because I wasn't sure how to describe it. It's like Disney World on sea steroids...except cleaner, less crowded and way more beautiful.
Once you enter Xel-Ha you are given your snorkeling gear and then you are free to explore the whole park - floating on the lazy river, zip lines, Mayan Ruins, snorkeling in several lagoons, nature trails, cliff jumping, all you can eat food and drink.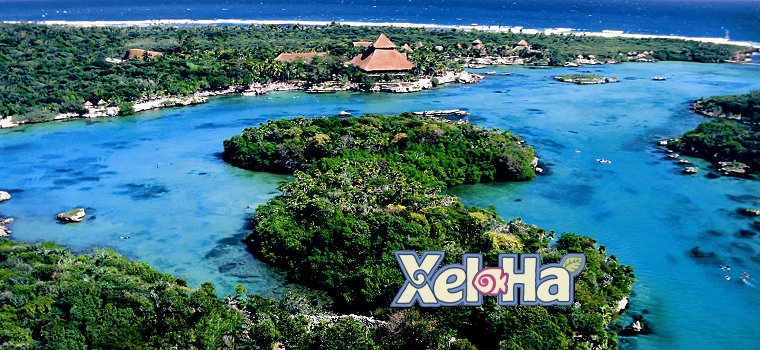 It really was an amazing place. Great if you have children, but if you want a romantic getaway this may not be your place.
3. Mayan Ruins
The Mayan Ruins was a great educational and fun outing. I highly recommend you hire one of the guides waiting by the ticket booth - we didn't.
4. Sian Ka'an
We went kayaking in Sian Ka'an which is a biosphere reserve (yeah, I'm not really sure what that is either. My translation: nature preserve)
It was absolutely beautiful, full of wildlife: alligators, birds etc. One warning, we kayaked for 3 hours. Yes 3 HOURS. They practically had to pry the paddle out of my hands when we finished. Barbie and Ken in our group had no trouble and hopped on their bikes for the two mile ride back to their hotel...I was thrilled for them. I, on the other hand, may or may not have offered our guide $20 to take me back to the dock..I should have offered $50. It was a great experience, but I could have had a great experience in 2 hours or less...just saying. I can't remember the name of the tour group we used...they were the second hut on the left if that helps :)
And there was so much more we could have done, but mama needed to nap and shop.