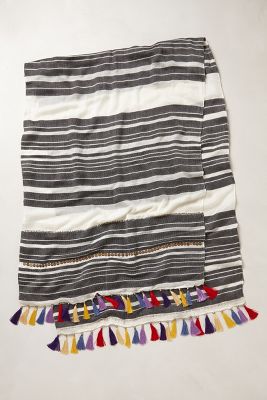 Saw this scarf online at

Anthropologie

. Love it and it's on sale..but it got a terrible review. Hmmm....what to do? It's the tassels you know, they make me happy.
Then while browsing through

Forever 21

I came across this scarf. Pretty cute and there are lots of tassels. Plus, it gives you the whole Aztec look without going crazy. Icing on the cake? It was $8. Yep, $8, you can't go wrong.
Forever 21 will surprise you sometimes. Can't wait to show you the leather jacket Cricket got to wear as part of her Halloween costume. To her it was just a prop but I made sure she got a size that I could wear too because I am going to dig it out of the costume box.